A friend recently pointed me towards the
First Aid Errata (2007 Edition)
. Most of the errors were minor typos that would not affect one's learnin. However, I would say about 10% of the errors were significant in terms of content. While I have the 2006 edition, the page was still useful as there will still significant errors in the document that existed in my edition.
One error it noted related to claw hand. The concept of claw-hand had always confused me a little bit, and the mislabeled diagram did not help matters. I was surprised to not find a single good site online that explained the two. This might be more due to my googling skills, but I figured I'd write up what I found.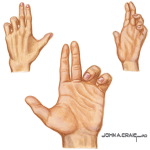 Pope's Blessing / Hand of Benediction
Nerve:
Median
Lesion Location:
Proximal (near the elbow) [1]
Deficiency
: When the patient tries to make a fist, they are unable to flex the index and middle fingers due to loss of
lateral lumbrical
action, leading to the hand of benediction. The fingers are extended due to unopposed radial nerve action on the finger extensors. I believe the finger will also be adducted due to loss of abducens pollicis brevics (although abducens pollicis longus should still function).
Notes
: This lesion is also related to
ape hand
due to the fact that loss of opponens pollicis means one has an unopposable thumb (like an ape). It seems some also believe the term
ape hand
refers to the thenar atrophy, but I like the first explanation better.
Claw Hand

Nerve:
Ulnar
Lesion Location:
Medial epicondyle fracture or
Guyon Canal entrapment
.
Deficiency
: There is clawing of the index and middle fingers due to weakness of the ulnar-supplied interossei muscles. [2]
Notes
: I think the confusion really starts here since it seems there are two entities discussed: claw hand and
ulnar
claw hand. The image at right is claw hand as described above.
Ulnar claw hand
seems to be a late stage of
ulnar nerve entrapment
in which the ring and little fingers are permanently clawed. It has also been termed "papal claw." I honestly still do not know what someone means when they simply refer to "claw hand."
While I know this post has not been definitive, hopefully it clarified the cause of the confusion here. Clearly, there are still some sources that say pope's blessing / hand of benediction is an ulnar lesion [3 and comments below], but I am still unconvinced. If anyone has a more definitive answer / clarification of what I have written, please comment about it. Thanks!
References

:

[1] http://www.studystack.com/studytable-10342
[2]
http://forums.studentdoctor.net/showthread.php?goto=lastpost&t=205962
[3]
http://www.prep4usmle.com/forum/thread/8287
Updated 2008-08-24:

I have made the references clearer so you know where the information is coming from.
Updated 2015-12-08: Updated links